ME AND YOU:
Presentation Training - Developing yourself as an expressive instrument

Whether you want to feel more comfortable talking in front of groups, pitching business proposals in front of investors or just simply get to know yourself better, there is an incredible wealth of knowledge and tools coming from the music world to assist you.

Every human interaction is a relationship, regardless of its nature. Yet we can only know others as well as we know ourselves.

What we work on together is clearing up any mental or physical blockages getting in the way of you expressing yourself, while learning how to use the body and mind in the most efficient way possible, allowing you to express yourself more clearly, more quickly.

Want to know more?

Powered by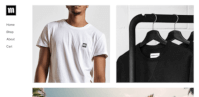 Create your own unique website with customizable templates.